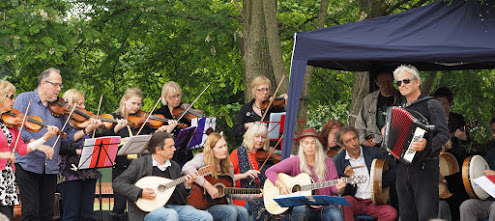 A Chance to Perform
We play at many local community events during the year. All orchestra members are encouraged to join in.
If you belong to a local community organisation and would like us to play at your event, please contact us.
Upcoming Events
16/12/2018
Centre for Wildlife Gardening SE15
Location: 28 Marsden Road, London SE15 4EE
Description: Winter Warmer - mulled wine and mince pies provided
Times: 17.00 - 18.00
Confirmed: Yes
No. of Attendees: 18
Attendees
23/12/2018
Christmas Party
Location: The Conquering Hero, 262 Beulah Hill, London SE19 3HF
Times: 19.30 - ?
Confirmed: Yes
No. of Attendees: 15
Attendees
25/01/2019
Goodrich school Ceilidh
Location: Dunstans Road London SE22 0EP
Description: Ceilidh for staff and parents of the school Dierdre works at
Times: 19.30 - 23.00
Confirmed: Yes
No. of Attendees: 14
Attendees
07/02/2019
Lenox Project, Deptford
Location: St Nick's Church Hall, Deptford Green
Description: The Lenox Project - a charity reconnecting Deptford with its maritime heritage. The Lenox was a state-of-the-art 17th century ship. They aim to build and launch a full-size replica of it, create a dockyard museum, and restore pride in the area. Evening talks given by naval historians Richard Endsor and J. D. Davies exploring the women of Deptford and life in the Royal Dockyard.
Times: 7pm
Confirmed: Yes
No. of Attendees: 7
Attendees
14/04/2019
New Cross Gate Cutting Nature Reserve
Location: Vesta Road, London SE14 6RF (opposite Endwell Road)
Description: Brockley Folk Festival
Times: TBC
Confirmed: Yes
No. of Attendees: 2
Attendees
06/07/2019
Our Lady & St Philip Neri Church
Location: 208 Sydenham Rd, London SE26 5SE
Description: Summer Fair
Times: 12.30 - 13.30
Confirmed: Yes
No. of Attendees: 1
Attendees
Past Events
13/12/2018 South London Botanical Institute
01/12/2018 Christmas Festival, Dulwich Wood House
25/11/2018 Centre for Wildlife Gardening
24/11/2018 St George's Christmas Market
11/11/2018 Castelbar Care Home
02/09/2018 West Norwood Feast
14/07/2018 Our Lady & St Philip Neri Church
07/07/2018 Watergate School, nr Sydenham
30/06/2018 Mother Goose Nursery Wildlife Garden
23/06/2018 Ruskin Park
16/06/2018 Alison Craig's birthday party
06/06/2018 Brockley Max Festival
24/03/2018 New Cross Gate Cutting Nature Reserve
17/03/2018 Underground Busking
17/12/2017 Centre for Wildlife Gardening SE15
16/12/2017 Horniman Gardens
28/10/2017 Mother Goose Nursery Wildlife Garden
03/09/2017 Homecroft Road Street Party
06/08/2017 Dulwich Picture Gallery
08/07/2017 Ruskin Park
02/07/2017 Friern Road Street Party
01/07/2017 Watergate School, nr Sydenham
25/06/2017 Brockwell Park
18/06/2017 Centre for Wildlife Gardening SE15
17/06/2017 Dulwich Hamlet Junior School
08/04/2017 Telegraph Hill Fesival
25/03/2017 New Cross Gate Cutting Nature Reserve
17/03/2017 Bertha James Day Centre
18/12/2016 Centre for Wildlife Gardening SE15
16/12/2016 Beckenham MindCare
11/12/2016 Dulwich Winterlights
10/12/2016 Paxton Primary School
26/11/2016 St Andrews Church Grove Park
19/11/2016 Ivy House (Folk Collective)
24/09/2016 Maritime Museum
02/07/2016 Watergate School, nr Sydenham
01/07/2016 Paxton Primary School
18/06/2016 Stillness Primary (Folk Collective)
12/06/2016 Centre for Wildlife Gardening SE15
12/06/2016 Friern Road Street Party
28/05/2016 Sheila's Birthday Party
20/03/2016 Horniman Museum Conservatory
06/03/2016 Telegraph Hill Festival
22/12/2015 Beckenham MindCare Centre
20/12/2015 Centre for Wildlife Gardening SE15
06/12/2015 Ivy House, Nunhead
29/11/2015 St Andrews Church Grove Park
03/10/2015 The Griffin Club Dulwich
26/07/2015 St Andrews Church Grove Park
19/07/2015 The CASSEL Centre SE23
11/07/2015 Fairlawn Primary School Summer Fair SE23
05/07/2015 Ivy House, Nunhead
04/07/2015 Blythe Hill Fields Festival
27/06/2015 Stillness Primary School Fete SE23
20/06/2015 St Andrews Church Fete, Grove Park
14/06/2015 MADD for Brockwell Park
14/06/2015 Dulwich Art Gallery
07/06/2015 Bellenden Road Big Lunch. Peckham
06/06/2015 L'Arche Garden SE27
31/05/2015 Dulwich Helpline Open Garden SE21
05/07/2014 Blythe Hill Fields Festival
07/06/2014 St Andrews Church Fete, Grove Park
01/12/2013 West Norwood Feast
28/09/2013 Red Cross Gardens
13/07/2013 Lewisham People's Day