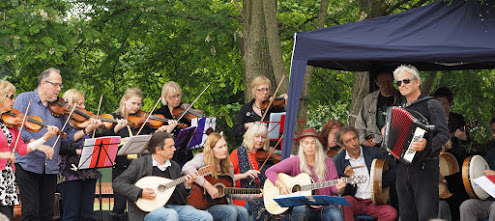 A Chance to Perform
We play at many local community events during the year. All orchestra members are encouraged to join in.
If you belong to a local community organisation and would like us to play at your event, please contact us.
Upcoming Events
11/11/2018
Castelbar Care Home
Location: 46 Sydenham Hill, Forest Hill, London SE26 6LU
Description: Alison's mum will provide the heckles
Times: 14.30 - 15.30
Confirmed: Yes
Attendees
24/11/2018
St George's Christmas Market
Location: Vancouver Rd, Forest Hill, London SE23 2AG
Description: This is the church who own the chapel we rehearse in
Times: 13.00 - 14.00
Confirmed: Yes
Attendees
01/12/2018
Christmas Festival, Dulwich Wood House
Location: 39, Sydenham Hill, London SE26 6RS
Description: Community based Christmas Market. They plan to have a grotto, stall holders, choir, reindeers, children's story telling, mulled wine pop up bar etc. We will be in a heated marquee.
Times: 13.00 - 14.00
Confirmed: Yes
Attendees
16/12/2018
Centre for Wildlife Gardening SE15
Location: 28 Marsden Road, London SE15 4EE
Description: Winter Warmer - mulled wine and mince pies provided
Times: 17.00 - 18.00
Confirmed: Yes
Attendees
25/01/2019
Goodrich school Ceilidh
Location: Dunstans Road London SE22 0EP
Description: Ceilidh for staff and parents of the school Dierdre works at
Times: TBA
Confirmed: Yes
Attendees
06/07/2019
Our Lady & St Philip Neri Church
Location: 208 Sydenham Rd, London SE26 5SE
Description: Summer Fair
Times: 12.30 - 13.30
Confirmed: Yes
Attendees
Past Events
02/09/2018 West Norwood Feast
14/07/2018 Our Lady & St Philip Neri Church
07/07/2018 Watergate School, nr Sydenham
30/06/2018 Mother Goose Nursery Wildlife Garden
23/06/2018 Ruskin Park
16/06/2018 Alison Craig's birthday party
06/06/2018 Brockley Max Festival
24/03/2018 New Cross Gate Cutting Nature Reserve
17/03/2018 Underground Busking
17/12/2017 Centre for Wildlife Gardening SE15
16/12/2017 Horniman Gardens
28/10/2017 Mother Goose Nursery Wildlife Garden
03/09/2017 Homecroft Road Street Party
06/08/2017 Dulwich Picture Gallery
08/07/2017 Ruskin Park
02/07/2017 Friern Road Street Party
01/07/2017 Watergate School, nr Sydenham
25/06/2017 Brockwell Park
18/06/2017 Centre for Wildlife Gardening SE15
17/06/2017 Dulwich Hamlet Junior School
08/04/2017 Telegraph Hill Fesival
25/03/2017 New Cross Gate Cutting Nature Reserve
17/03/2017 Bertha James Day Centre
18/12/2016 Centre for Wildlife Gardening SE15
16/12/2016 Beckenham MindCare
11/12/2016 Dulwich Winterlights
10/12/2016 Paxton Primary School
26/11/2016 St Andrews Church Grove Park
19/11/2016 Ivy House (Folk Collective)
24/09/2016 Maritime Museum
02/07/2016 Watergate School, nr Sydenham
01/07/2016 Paxton Primary School
18/06/2016 Stillness Primary (Folk Collective)
12/06/2016 Friern Road Street Party
12/06/2016 Centre for Wildlife Gardening SE15
28/05/2016 Sheila's Birthday Party
20/03/2016 Horniman Museum Conservatory
06/03/2016 Telegraph Hill Festival
22/12/2015 Beckenham MindCare Centre
20/12/2015 Centre for Wildlife Gardening SE15
06/12/2015 Ivy House, Nunhead
29/11/2015 St Andrews Church Grove Park
03/10/2015 The Griffin Club Dulwich
26/07/2015 St Andrews Church Grove Park
19/07/2015 The CASSEL Centre SE23
11/07/2015 Fairlawn Primary School Summer Fair SE23
05/07/2015 Ivy House, Nunhead
04/07/2015 Blythe Hill Fields Festival
27/06/2015 Stillness Primary School Fete SE23
20/06/2015 St Andrews Church Fete, Grove Park
14/06/2015 Dulwich Art Gallery
14/06/2015 MADD for Brockwell Park
07/06/2015 Bellenden Road Big Lunch. Peckham
06/06/2015 L'Arche Garden SE27
31/05/2015 Dulwich Helpline Open Garden SE21
05/07/2014 Blythe Hill Fields Festival
07/06/2014 St Andrews Church Fete, Grove Park
01/12/2013 West Norwood Feast
28/09/2013 Red Cross Gardens
13/07/2013 Lewisham People's Day